About Aluminum Nitride (ALN) Ceramic
Aluminum nitride (AlN) has high thermal conductivity and electrical insulation, which makes it can be used in various electronic equipment. The aluminum nitride thermal conductivity is 180W / (m.k), which is 5-8 times higher than that of alumina ceramics. Therefore, AlN Ceramics have good thermal shock resistance and can be used in extremely hot environment at 2200 ℃.
What is Aluminium nitride made of  ?
Aluminum nitride (AlN) is a covalent bond compound, atomic crystal, diamond-like nitride, hexagonal system, wurtzite crystal structure, non-toxic, white or grey white,The chemical composition is AI 65.81%, N 34.19%, theoretical density 3.26g/cm3.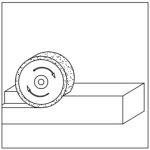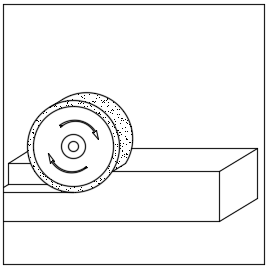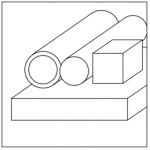 Aluminum Nitride
Properties
High thermal conductivity (about 180W/m.K), close to BeO and SiC, more than 5 times that of Al2O3;
The thermal expansion coefficient (4.5 *10-6℃) matches that of Si (3.5-4 *10-6℃) and GaAs (6 *10-6℃);
Good electrical properties (dielectric constant, dielectric loss, bulk resistivity, dielectric strength);
Good mechanical properties, higher bending strength than Al2O3 and BeO ceramics, sintering under normal pressure;
Good light transmission characteristics;
Non-toxic
Aluminium Nitride Parameter table
ITEM

UNITS

TEST

AlN

–

–

Color

Gray

–

–

Content(%)

99.9%

–

–

Main Characteristics

High Electrical Insulation, High Thermal Conductivity

Main Applications

Heat Uniformity Parts,High Temperature Treatment Fixtures,Semiconductor Processing Equipment Parts

Density (*1)

g/cm3

JIS R 1634

3.2

–

–

Water Absorption

%

JIS C 2141

0

–

–

Vickers Hardness HV9.807N

GPa

JIS R 1610

11.2

–

–

Flexural Strength 3 P.B.

MPa

JIS R 1601

220

–

–

Compressive Strength

MPa

JIS R 1608

–

–

–

Young's Modulus of Elasticity

GPa

JIS R 1602

310

–

–

Poisson's Ratio

–

0.24

–

–

Fracture Toughness (SEPB)

MPa・m1/2

JIS R 1607

–

–

–

Coefficient of Linear Thermal Expansion

40 - 400℃

× 10-6/K

JIS R 1618

4.6

–

–

40 - 800℃

5.2

–

–

Thermal Conductivity (20℃)

W/(m・K)

JIS R 1611

170

–

–

Specific Heat Capacity

J/(g・K)

JIS R 1611

0.72

–

–

Thermal Shock Temperature Difference

℃

JIS R 1648

–

–

–

Dielectric Strength

kV/mm

JIS C 2141

16

–

–

Volume Resistivity

20℃

Ω・cm

> 1014

–

–

300℃

1011

–

–

500℃

109

–

–

Dielectric Constant(1MHZ)

–

8.5

–

–

Dielectric Loss Angle(1MHZ)

(×10-4)

2

–

–

Loss Factor

(×10-4)

17

–

–

Nitric Acid(60%)90℃ ,24H

(Weight Loss)
mg/cm2

–

–

–

—

Sulphuric Acid(95%)95℃ ,24H

–

–

–

Sodium Hydroxide(30%)80℃ ,24H

–

–

–
*The values are typical material properties and may vary according to products configuration and manufacturing process. For more details, Please feel free to contact us.
*Aluminum nitride is easy to be oxidized on the surface, which forms a layer of alumina.This helps to protect the material, but it affects the thermal conductivity (alumina is about 30 W/mK).In an oxidative atmosphere, this occurs at about 700℃.In an inert atmosphere, the layer protects AlN at temperatures as high as about 1350℃.When the temperature is higher than this, bulk oxidation occurs.
What can AlN Ceramics be used for?
Heat sinks & heat spreaders
Electrical insulators for lasers
Chucks, clamp rings for semiconductor processing equipment
Electrical insulators
Silicon wafer handling and processing
Substrates & insulators for microelectronic devices & opto electronic devices
Substrates for electronic packages
Chip carriers for sensors and detectors
Chiplets
Collets
Laser heat management components
Molten metal fixtures
Packages for microwave devices
Customized processing of AlN Ceramics
Aluminum nitride can be processed in green or fully dense state. In the green state, it can be processed into complex geometry relatively easily.However, the sintering process that is required to fully densify the material causes the aluminum nitride body to shrink approximately 20%. This shrinkage means that it is impossible to hold very tight tolerances when machining aluminum nitride pre-sintering. In order to achieve very tight tolerances, fully sintered material must be machined/ground with diamond tools.  In this process a very precise diamond coated tool/wheel is used to abrade away the material until the desired form is created. 
Great Ceramic is your aluminum nitride machining specialist for your precision ceramic prototyping & manufacturing needs; we are always happy to use our many years of advanced ceramics experience to provide advice on materials, design, and application. If you would like to buy aluminum nitride plates, rods, tubes or custom machined components, please contact us and one of our experts will be happy to assist you.
Learn more about Aluminum Nitride…